Meet Dr Erin Cho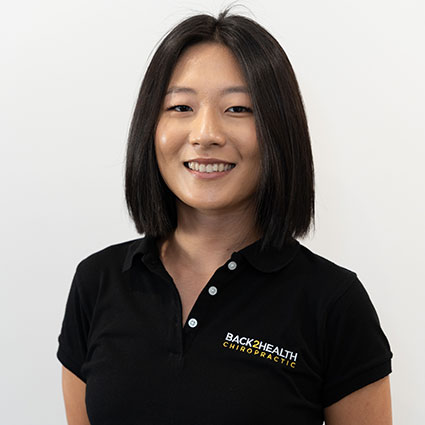 Becoming a Chiropractor
Dr Erin Cho's journey into chiropractic care started with her fascination for natural health. Growing up with this interest, she became curious about how our bodies function and how they can heal and improve with chiropractic treatments.
Dr Erin Cho graduated with a Bachelor of Chiropractic Science and a Master of Chiropractic degrees from Macquarie University. She expanded her expertise with postgraduate studies in Impulse Instrument Adjusting and Dry needling. She is dedicated to continually learning and training to provide the best possible care for her patients.
Dr Erin Cho believes in looking beyond the surface to find the root causes of health issues. She provides safe, gentle, and specialised care, focusing on the bigger picture of overall well-being. Preventative and maintenance care are her passions, helping patients optimise their health and achieve their wellness goals.
EXPLORE OUR SERVICES »

Dr Erin Cho finds great satisfaction in improving people's lives. Whether it's reducing pain, enhancing mobility, or promoting a healthier lifestyle, she's dedicated to making a positive impact.
It is rewarding to have a positive impact on people's lives as a chiropractor – from reducing pain and moving better, to changing their views on general health and wellbeing, helping to improve overall quality of life.
Outside of Back2Health Chiropractic
When she's not caring for patients, Dr Erin Cho enjoys spending time at the beach and practicing reformer Pilates.
Contact us today to get to know Dr Erin Cho and learn more about how chiropractic care may help you.
---
Dr Erin Cho | (02) 9712 1800